Alexandria Public School Administrators Learn about Central American History
More than 70 Alexandria City Public School (ACPS) administrators gathered at the Lee Community & Senior Center on April 24, 2018 for a workshop on culturally relevant curriculum facilitated by Teaching for Change staff Faye Colon and Deborah Menkart.
They began by introducing four levels of curriculum reform, as outlined by Dr. James Banks in "Approaches to Multicultural Curriculum Reform," the (1) Contributions Approach, (2) Ethnic Additive Approach, (3) Transformative Approach, and (4) Decision-Making and Social Action Approach. (The article is reprinted in Beyond Heroes and Holidays.)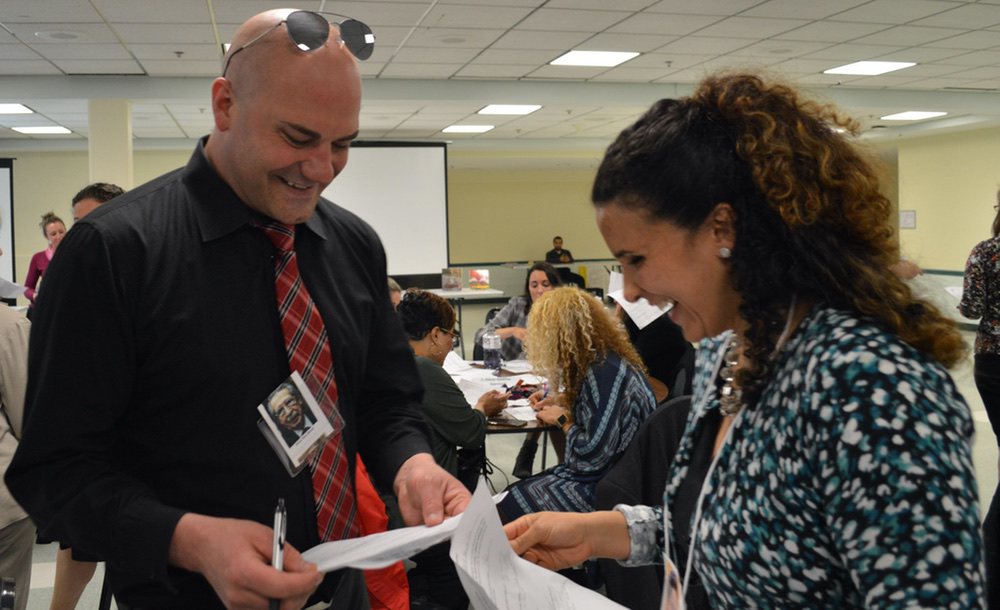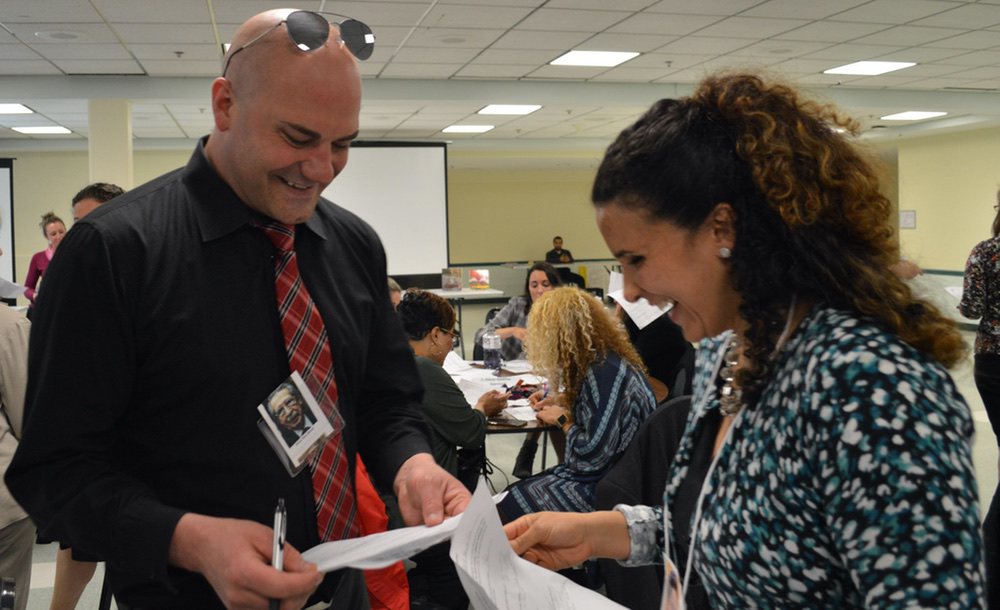 In a jigsaw format, administrators were assigned one level per table to read. To introduce their reading to the rest of the group, they wrote a six-word essay, based on the approach of the Race Card Project by journalist Michele Norris. Some examples of the six-word essays include:
Level One: Contributions Approach
Glossy basic lessons lacking core issues.
Level Two: Ethnic Additive Approach
This curriculum doesn't tell my story.
Level Three: Transformative Approach
Varied perspectives transform curriculum via multicultural insights.
Level Four: Decision-Making and Social Action Approach
Action through analysis, empowerment through change.
Moving from theory to practice, the facilitators introduced a lesson on Central America designed to (1) explore writers, poets, and activists that have contributed to the rich cultural heritage of Central America, and (2) examine the push factors and context of immigration by Central American families to the United States.
This activity is one of many free downloadable lessons which can be found at TeachingCentralAmerica.org; a website designed and managed by Teaching for Change which seeks to provide educators with resources to teach the rich history and literature of Central America.
After the lesson, administrators were asked to determine which level the lesson was on Banks' framework. Most surmised that it depended on whether it was offered in isolation or in the context of additional lessons on Central America, and whether or not the study of history led to action today.
The administrators shared positive feedback about the session. Here are some of their comments:
The learning activity, character assignment, was not only personally enlightening but can be used with both staff and students.
I learned about key Central American figures and perspectives. I plan on using this activity to help my students understand socio-political perspectives.
I learned about the approaches to multicultural reform and a great activity I can share with my staff.
I plan on working hard to ensure that our staff infuses more history about our students' native land.
I loved the use of the six-word essay because it helps to focus learning. I plan on sharing these teaching strategies and resources with my school community.
I learned the importance of portraying historical events from all perspectives.
I learned quite a bit and want to explore ways to make the curriculum at my school a level three and four.
Additional professional development for our district is necessary — as a follow up to this important session.
The Interim Superintendent, Dr. Lois F. Berlin, shared closing remarks about the importance of learning about and teaching this history to students.
The ACPS's Office of Cultural Competency has an ongoing collaboration with Teaching for Change to provide professional development to its educators on culturally relevant curriculum and teaching Central America. In fact, for the past two years, Teaching for Change has been contracted to facilitate a three-session professional development course for educators on lessons and resources for teaching about Central America.