Friday, February 9 (Day 5)
Black Lives Matter Kindergarten Mural
Kindergarten students in Sandhya Rajan's class are solidifying their commitment to valuing and protecting Black lives by adding their signature to the "BLACK LIVES MATTER" banner at LaSalle-Backus Education Campus.
Parents Read Aloud to their Students
Washington Yu Ying's 5th graders held discussion lessons each day of the week, connecting what they know about social justice with the Black Lives Matter Movement. Today, the entire school participated in a Black Lives Matter/Black History Month read aloud. The read-alouds, which were organized by parents, include suggested books and lessons provided by the D.C. Area Black Lives Matter Week of Action in Schools, as well as books brought to the school by parents. In one fifth grade classroom, a parent of a first-grade student read Hidden Figures: The True Story of Four Black Women and the Space Race and The Story of Ruby Bridges. During the read-aloud of Hidden Figures the mother taught the students the term and definition for the word trailblazers. Following the read aloud of Ruby Bridges students were able to identify Ruby as one of the trailblazers for the integration of schools.
Unity March at LaSalle-Backus Education Campus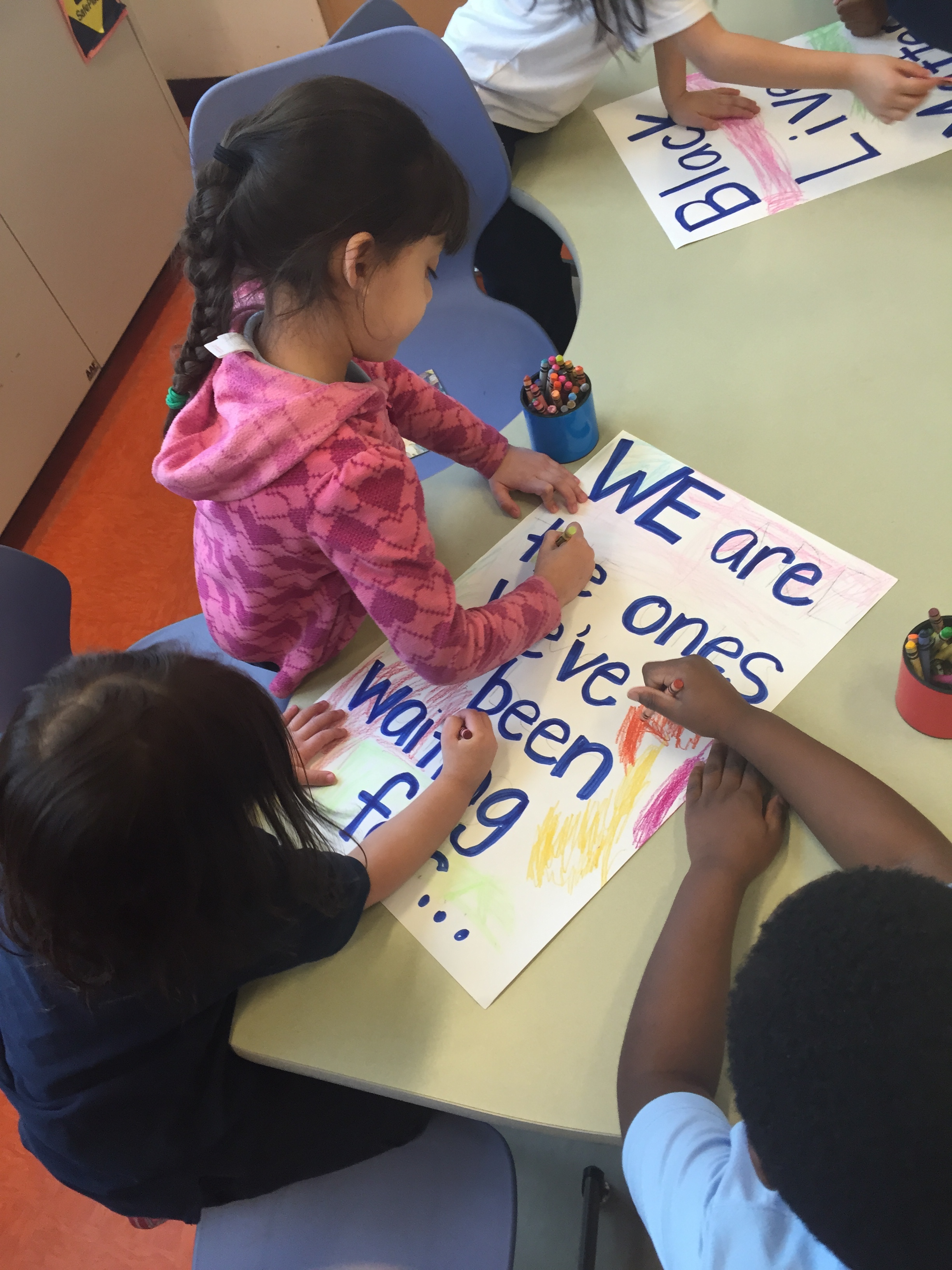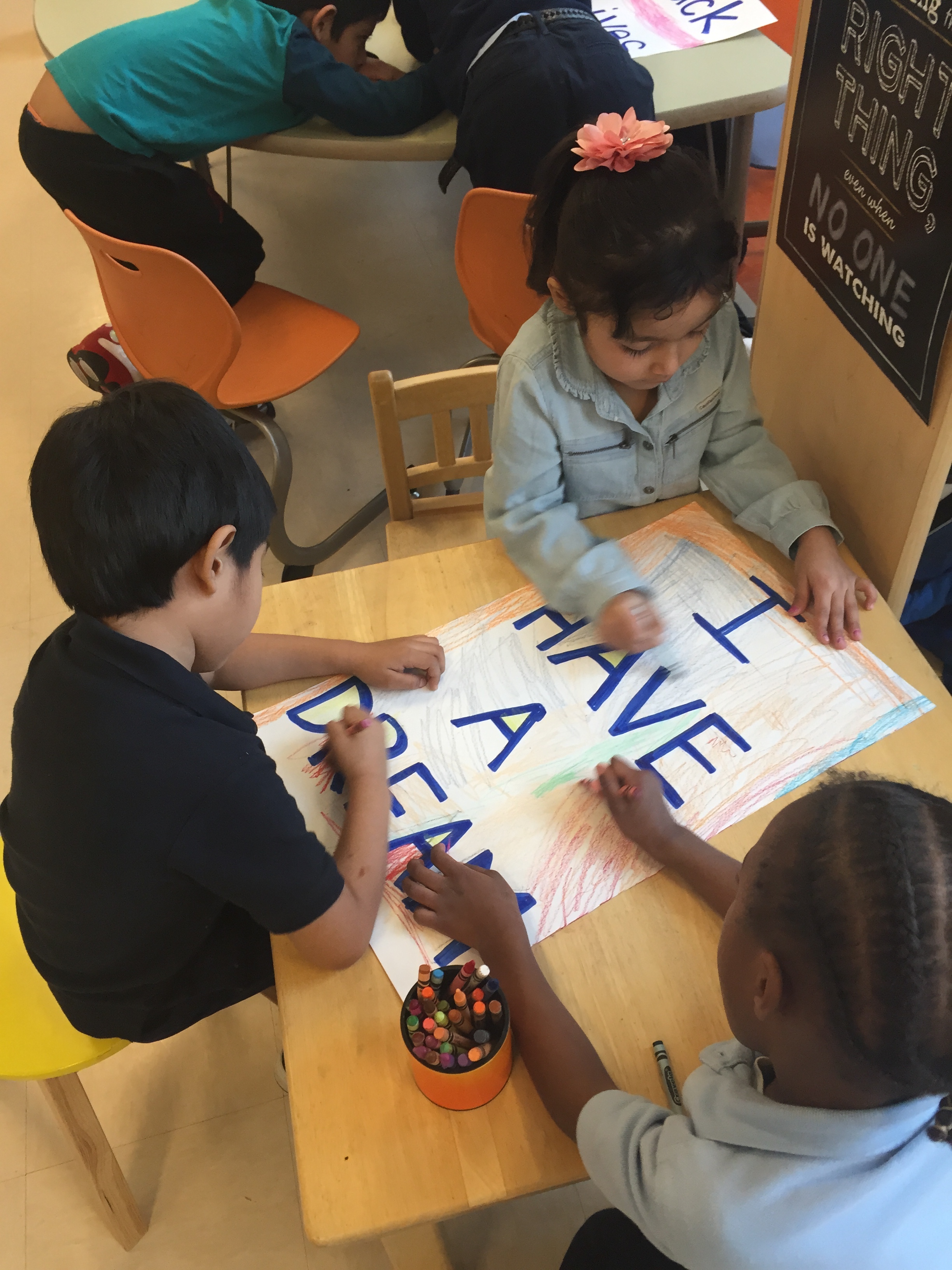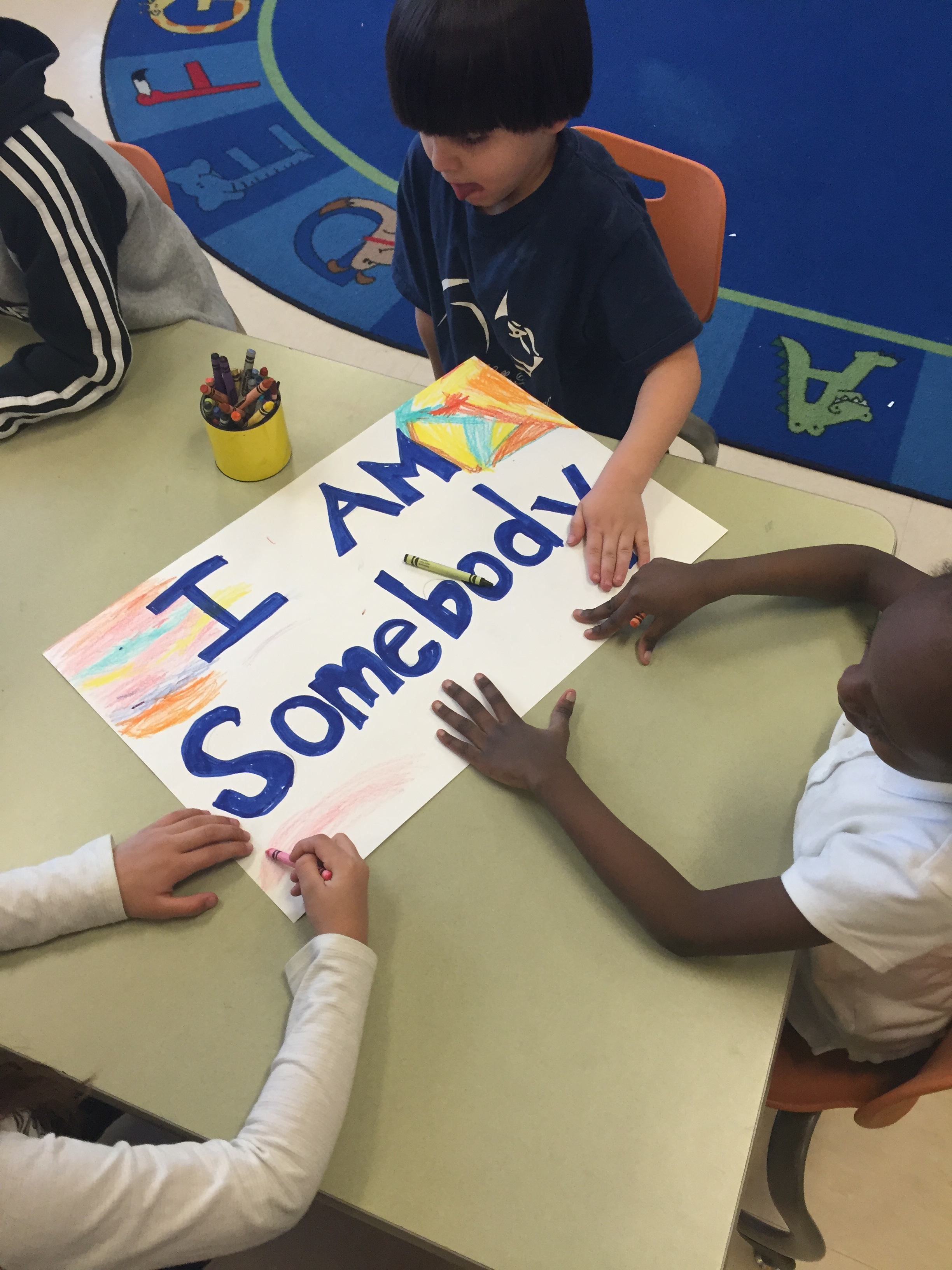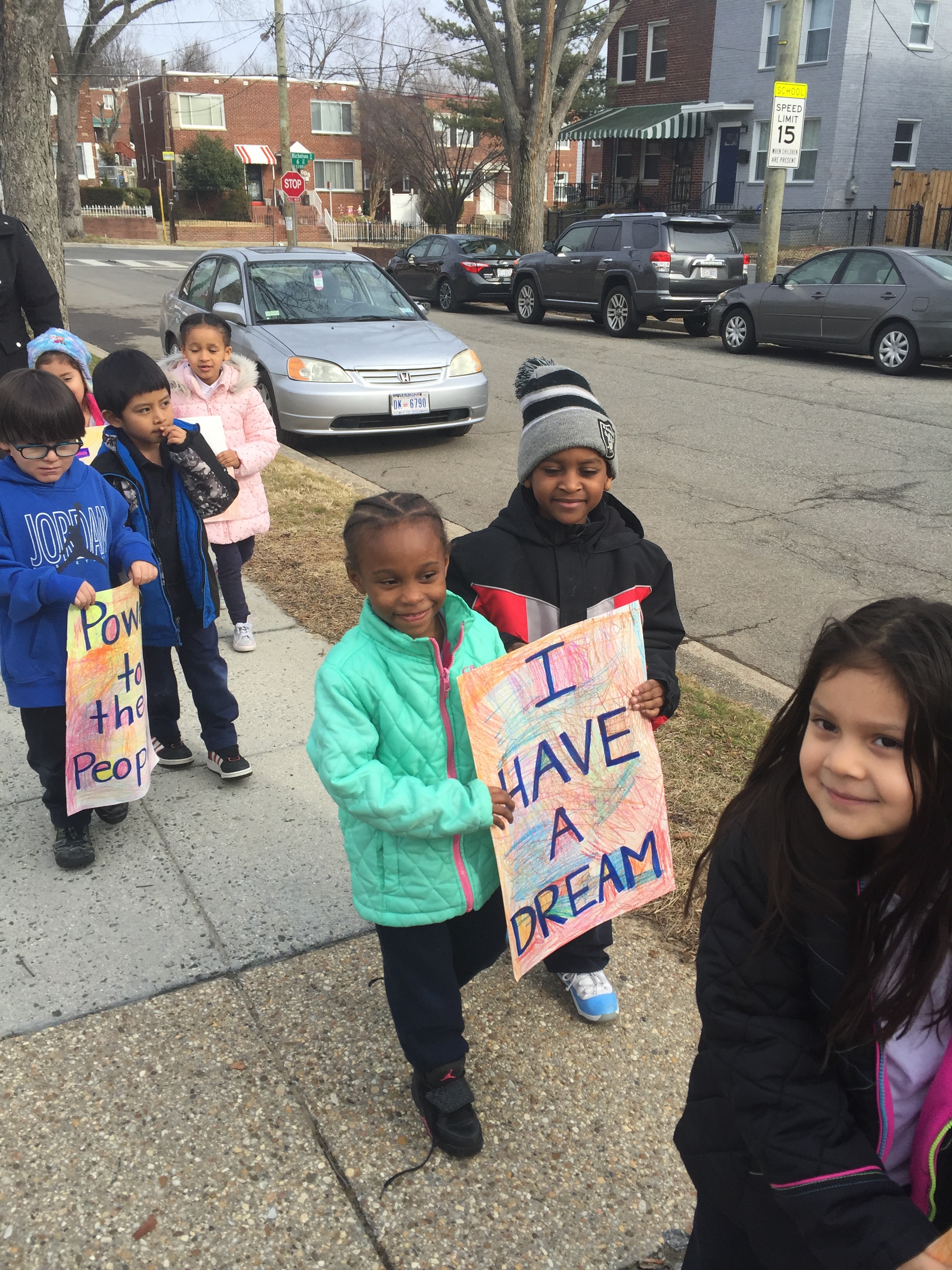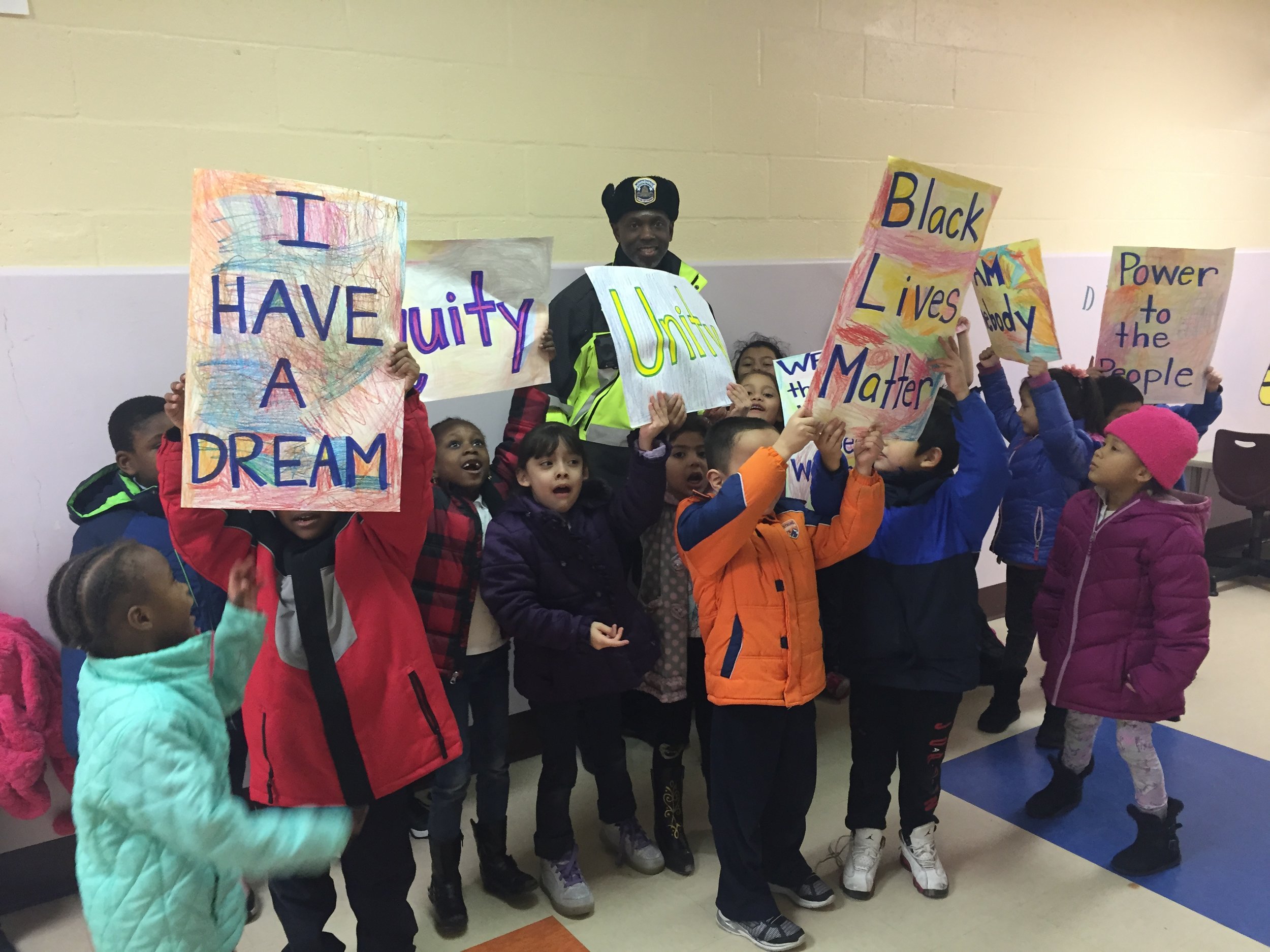 Kindergarten students prepare signs for the Unity March that culminated LaSalle Backus' week of learning about Black Lives Matter.
Milo's Museum Read Aloud
At Sheridan School an educator reads Milo's Museum to her students.
Third and Fifth Grade Activists
In a School Where Black Lives Matter we…
An Inspired Teaching Demonstration School educator wrote… "In a school where Black Lives Matter, we embrace uncomfortable, messy, and yet essential conversations about race. We recognize the systemic injustice of our society and we work daily to provide a school environment that is safe, inclusive, and affirming for every student, without exception."
While a Student at the Inspired Teaching Demonstration School wrote...
Tip of the Spear: Maroon Communities in South America
Producers, Dr. Kmt Shockley and Kofi LeNiles, provided an engaging and interactive African centered history workshop for ninth grade students at Friendship Technology Preparatory Academy. At the core of their workshop was the history and culture of a maroon community called Palenque, San Basilio (Palenque). Palenque is located in Colombia, South America and is the focus of their upcoming documentary entitled "For Humanity: Culture, Community and Maroonage."
At first, students were a bit skeptical as Dr. Shockely asked probing questions to gather information about their background knowledge on Black history. However, the mood of the entire classroom transformed as students became enthralled in the discussion when Dr. Shockley started talking about the original name of Egypt, which originally was called "Kmt" meaning "Land of the Blacks." Read more.
Love Poems to Black Women
The culmination of Black Lives Matter Week of Action in Schools was a powerful open mic poetry reading. Students of all ages and adults shared love poems to Black women with an enthusiastic audience. The evening was beautifully MC'ed by Joseph Green from Split This Rock and featured DJ BE. Wilson High School (DCPS) generously contributed the auditorium.
The youngest reader was 5-yr-old Ifé who read a tribute she wrote to Audre Lorde because they share the same birthday. Ifé, who spoke with great poise, began by telling the audience this was her first time reading at a poetry event. (We will provide video clips soon thanks to the pro-bono support of a student from American University. In the meantime, here are some photos.)
The event was a wonderful close to this week of action (Feb 5-9) and an inspiration to take action every day, all year long, to make Black Lives Matter at School.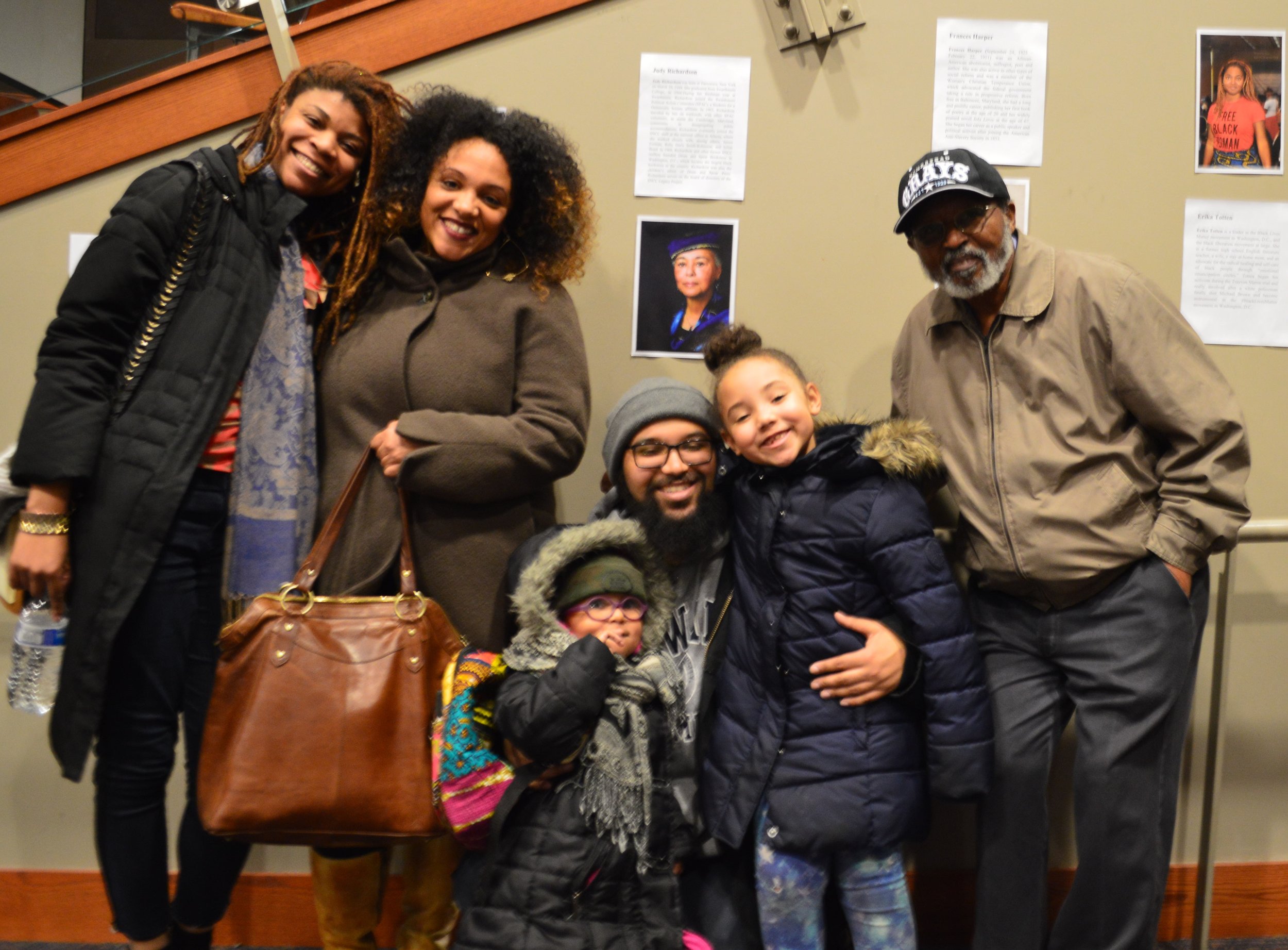 See photos from the event above.